Dear SBDP friends, family and community,
Allow me to share with you my JOY and GRATITUDE —
2022 saw a return to the studio for SBDP! We got to dance in-person again! Lifting each other up in rehearsals, performances, workshops and residencies was life-affirming! We were greeted with the most loving enthusiasm by audiences at the National Women's Music Festival! We connected with environmental protection and Indigenous LandBack organizations in Pt. Reyes, and dug-in with sustainable food visionaries in Oakland.
Please check out our 2022 season video retrospective!
2023 will likely see the company's return to producing a full-length show (or two!) from our repertory as well as the development of exciting new works. As we increase artist pay and expand to more stages and audiences, having your continued energetic and financial support will be vital and deeply appreciated.
SBDP believes that curiosity, wonder, and a deep caring for people and the planet are essential for our collective survival. We know that art creates and fosters community. We believe strongly that through our practices, productions and performances, we can deepen our understandings of social justice, live and express our values, and be a part of making real and positive change.
I am, we are, grateful to be in the beauty, the struggle, the wildness, the journey, the dance, the grace, space, time and community with you!
With Love, Thanks, and Best Wishes,
and the SBDP Artists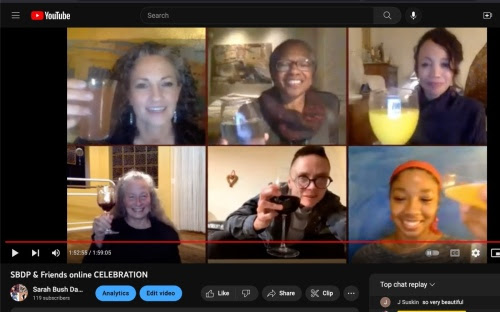 A big Thank You to everyone who joined us for our 3nd annual online Gala! If you missed it, here's a link to the recorded event. SBDP artists and friends shared video highlights from our 2022 Season and talked about creative process and our experiences. You can still share your questions and reflections with the artists by commenting on the video and the artists will reply!
Thank you for being part of the SBDP ecosystem. We look forward to creating art and community with you in 2023!
Donations to the SBDP artists and our work are tax-deductible and a tremendous support. Please give as you're able.
We appreciate all you do!
Banner photo: Sarah takes flight, jumping off a boulder into the blue sky
on Native Land of the Ute Indians